Student success celebrated as four new Honorary Fellowships awarded
Published

Tuesday 16 Jul 2019
Myerscough College and University Centre is delighted to announce the awarding of its latest Honorary Fellowships.
President of the National Farmers' Union, Minette Batters; former England rugby Head Coach, Brian Ashton MBE; businessman, rally driver, and Down's syndrome campaigner, John Stone; and former Myerscough College Chief Executive and Principal, Ann Turner MBE, have all accepted the highest honour that the College can bestow.
They have now been inducted into the College's elite group of inspirational people and join a very exclusive club that contains names from the world of business, sport and entertainment.
Minette Batters
Minette Batters is the current President of the National Farmers' Union, becoming the first woman hold the position in its 110 year history. The NFU represents more than 50,000 members of the agriculture sector in England and Wales.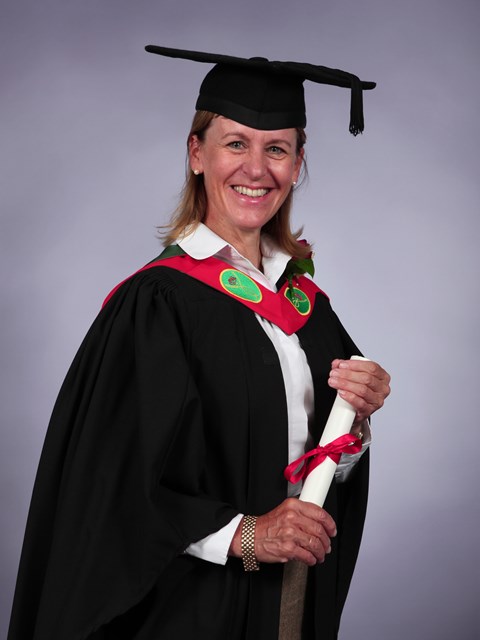 Minette runs a tenanted family farm in Wiltshire. The mixed farming business includes a hundred cow continental cross-suckler herd, and a small herd of pedigree Herefords as well as sheep and arable. Diversification includes the conversion of a 17th Century tythe barn into a wedding and corporate events venue, and horse liveries. Minette co-founded the campaigning initiatives 'Ladies in Beef' and the 'Great British Beef Week'.
She has been an NFU member from grassroots through to County Chairman; she served as Wiltshire's Council delegate and also as Regional Board Chairman for the South West. Minette has also been a member of NFU Governance Board and served as NFU Deputy President for four years from 2014 to 2018. Minette is also a Trustee of Farm Africa.
Minette Batters is awarded a Myerscough College Honorary Fellowship in recognition of an outstanding contribution in the field of agriculture and the National Farmers' Union.
Minette said: ''It's an enormous privilege to be here today, and I'm delighted to accept the fellowship.
''I was here (at Myerscough) back in February and saw for myself the depth of the wonderful work that goes on here.
''Congratulations to all the students graduating and I wish you all the best.
''When I became President of the NFU I was told I'd broken through a glass ceiling. I'd say to every student to try and break yours. Be calculated risk takers, and go and follow your dreams.
''You are the young people who are optimistic, passionate and brilliant. Well done on what you have all achieved today.''
Brian Ashton MBE
Brian Ashton MBE has had a distinguished career in the world of rugby and beyond, including leading England to the World Cup final in 2007.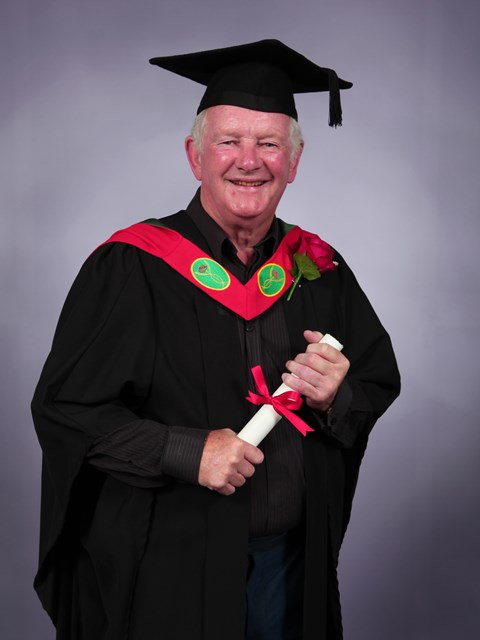 Brian's playing career saw him represent clubs including Fylde and Orrell, as well as being in the England squad which toured Australia in 1975. He also played representative rugby for Lancashire, England North and the Barbarians. He also played in France and Italy.
Outside of rugby, Brian then became a history teacher at institutions including Hutton Grammar School and Stonyhurst College. As a rugby coach, he joined Bath as backs coach in 1989, establishing them as the dominant team in English rugby for a decade to the mid-1990s, and helping them to five league titles. He took over as head coach in 1994, and led Bath to their last domestic trophy in 1996.
Brian then had a brief spell as National Coach of Ireland from 1997 to 1998, before becoming Clive Woodward's assistant with England from 1998 to 2002, and was the RFU's National Academy Manager from 2002 to 2005. In this role he played a key part in the launch of England Rugby's National Academy system, creating the Junior and Senior National Academies to develop the most talented players at England A, Sevens, Under 21 and Under 19 level.
Brian returned to Bath as head coach at the start of 2006, and was then appointed as England attack coach from May 2006, and as Head Coach by the end of the year, leading his country in the 2007 World Cup. Here, against the odds, England made the final, where they narrowly lost to South Africa.
After England finished second in the 2008 Six Nations, their best finish for five years, Brian left the role. Nowadays, he operates a coaching consultancy, and was awarded the MBE in 2008.
Brian Ashton MBE is awarded a Myerscough College Honorary Fellowship in recognition of an outstanding contribution in the field of rugby and sports coaching.
Brian said: ''I'm excited, proud, but feel very humbled to receive this fellowship. But, today is about the graduates, who have done an amazing job to get here and I congratulate you all.
''Students are now at the end of the beginning. Climb the ladder, lift the lid off the box, and say 'bring it on'. Go out and be successful and ambitious, and have the courage to be yourself in whatever you do. Step outside that box, and leave the world a better place than it was when you arrived.''
John Stone
John Stone is a prominent businessman, rally driver, and Down's syndrome campaigner. His company, Legend Fires, has sponsored the prestigious North West Stages rally since 2004.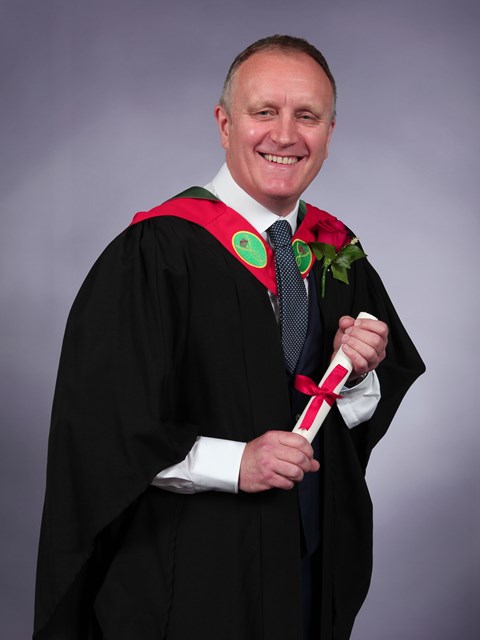 John has had a passion for rallying from a young age, in addition to building a successful business selling high efficiency gas appliances, Legend Fires, which was established in 1996, and has become one of the leading names in the sector.
Away from the business, John competes in stage rallying and has contested every North West Stages Rally since 2000. He soon came to realise that the event organisers took a similar business approach to his in scrutinising every detail of their operation.
When, in 2004, the organisers were looking for an event sponsor, Legend Fires came on board to support the event. Fifteen years on and the company's name is intrinsically linked to the event that is known throughout the sport as the Legend Fires North West Stages. In 2019, it became the first ever 'closed roads' rally event in the north of England.
John and his family also have a son, Alex, who was born with Down's syndrome, and who regularly takes part in events with his father as a co-driver. Alex attends Myerscough College and has gained a number of foundation qualifications. John has also supported other families, and was a founding member of the Rallying for Down's syndrome awareness campaign.
John Stone is awarded a Myerscough College Honorary Fellowship in recognition an outstanding contribution to motorsport.
John said: ''When I received the invitation I couldn't believe I'd be in the same company as previous recipients such as Andrew Flintoff, Bill Beaumont, and one of my heroes, motorcycle legend, John McGuinness.
''I've had a keen interest in motorsport since the 1970s, which has grown and grown, and my Legends Fires business has been proud to sponsor the North West Stages since 2004. This year's event saw us use the superb facilities at Myerscough, and the staff and students really raised their game for the event.
''In 1997 our son was born with Down's syndrome. We did a rally with him when he was old enough, and he absolutely loved it, and over the last few years he's been involved and it's been great fun – it shows people with Down's can do great things, given the opportunity.
''Congratulations to all students. This is a proud day for me and I'd like to thank everybody for this prestigious honour.''
Ann Turner MBE
Ann Turner MBE was Chief Executive and Principal of Myerscough College from 2006-2018, becoming the first woman to lead the institution. She spent more than twelve years in the role, and had a twenty year association with the College.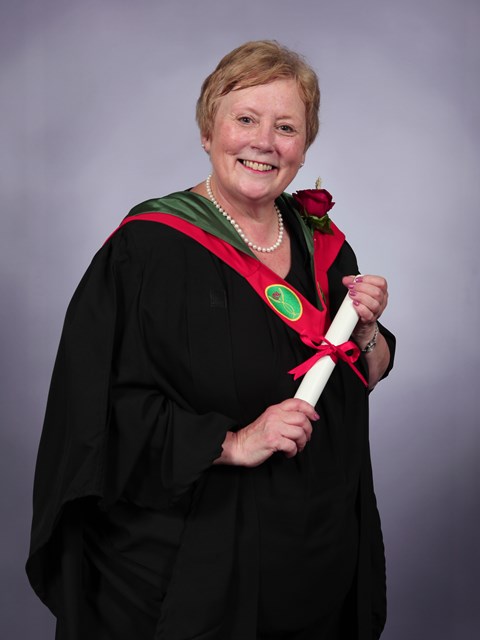 Ann became the first woman to take the College's top job on March 1st, 2006, and over her time oversaw a period of enormous growth and campus developments.
Before Ann became the College's first female Principal in its 110 year history, she was a long term member of Myerscough's senior management team, having previously held the position of Director of Finance for seven years, from 1998. Ann played a key role in ensuring the College achieved significant growth and enhanced its position regionally, nationally and internationally.
Although Ann was brought up on an arable farm in East Anglia, she has a range of experience from outside the sector working at various levels in a fully commercial environment. She is also a former lecturer at Newcastle University, and is a Fellow of the Chartered Institute of Management Accountants. Ann's interests revolve around her family with her two sons and grand children. She has also served as a Magistrate on the Lancaster bench.
Ann was awarded the MBE in January, 2019.
Ann Turner MBE is awarded a Myerscough College Honorary Fellowship in recognition of outstanding contribution to Myerscough College and land-based education
Ann said: ''Thank you for this amazing honour given to me today. To stand on this stage is a real privilege and one I feel truly humbled to receive.
''Myerscough will always have a very special in my heart after spending twenty of my happiest professional years on this campus. I loved my job and worked with some amazing people.
''Although I stand proudly on stage, this is an award for so many – for students, for ex-colleagues, for governors and all who contribute to make Myerscough College such a very special place. This is an award for the real difference the college makes to people's lives. It's also recognition for my family and their support over many years.
''Today the options for college leavers are huge. My advice to students is do not panic if you do not yet know what you want do in your careers. Be ready for the opportunities when they arise. Don't be frightened of change, and find a role you enjoy, as you spend too much time at work not to enjoy what you're doing.
''Myerscough is hugely respected in the sector and is a college and university centre that is going from strength to strength.
''I wish everybody a happy, healthy and successful future, whatever that may be.''
They join a fellowship list including the likes of ex-Manchester United manager, David Moyes; football legends Jimmy Armfield CBE & Sir Tom Finney; cricketer Andrew Flintoff; and supermarket entrepreneur, Edwin Booth.
As usual, ceremonies have taken place across Lancashire & Merseyside this year that have seen hundreds of Myerscough College and University Centre students presented with their qualifications in both Higher and Further Education, ranging from degrees and foundation degrees, through to BTECs, City & Guilds, and a host of other vocational qualifications and apprenticeships.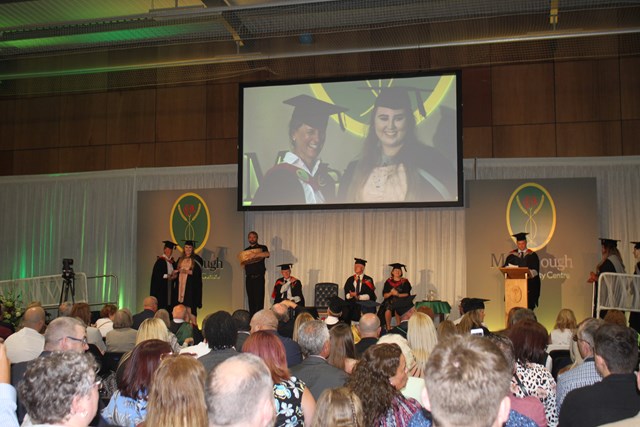 Alison Robinson, Chief Executive and Principal of Myerscough College and University Centre, said: ''This is a very special year for us as we celebrate our 125th anniversary. We started with just ten cheesemaking students, and have grown to more than 5,000, studying across more than twenty different subject areas.
''I welcome all of our new Honorary College Fellows, and I know they join us in congratulating all our students in their achievements.
''Students are at the heart of our college, and our student experience is so much more than simply an academic qualification – it's enrichment, it's high quality work experience, it's community work and charity fundraising. These are all critically important too.
''This is a chance to celebrate and recognise all the work that our graduates and learners have put into their studies congratulate them all on their successes.
''I'd say to our students that this is just the beginning. Their studies with us have equipped them exceptionally well for the future. We wish them all a very happy, healthy and successful future.''
by Dave Salmon
DSalmon@myerscough.ac.uk