Our Animal Studies Centre offers a range of services for our furry (and not so furry) friends, from grooming and healthcare through to behaviour classes and hydrotherapy for injury recovery. All services are provided by fully qualified staff with support from the students on our animal care programmes. Both private appointments and vet referrals are welcome.
Canine Hydrotherapy
The Canine Health Studio offers a hydrotherapy service for the vets in the local area. Myerscough College Canine Rehabilitation and Fitness (MCCRF) was established in 2007 and since then has helped many dogs back into health, linking with established orthopaedic and neurological secondary referral specialists.
Hydrotherapy
Hydrotherapy is the use of water as a medium for rehabilitation, pain management, maintenance of functional ability and fitness. In the case of the Hydrotherapy treadmill at Myerscough College, it is the use of water with the aid of a treadmill. The water levels are altered according to the animal's condition/ need. This is done with the understanding of the physics of water, hydrostatic pressures and buoyancy. With the combination approach of physiotherapy and hydrotherapy exercise, equipment or people within the treadmill can also aid functional ability and reduce pain.
Physiotherapy
Physiotherapy is the promotion of mobility, functional ability, quality of life and movement potential through examination, evaluation, diagnosis and physical intervention by a physiotherapist. The treatments used can involve: advice and education, massage, manipulation, therapeutic exercise, hot and cold therapy, electrotherapy and hydrotherapy. Physiotherapy is used in conjunction with veterinary practise to enhance the animals well being, speed up recovery times, assist with pain relief and prevention of injury.
Veterinary Referral Form
This form is for Veterinary Professionals to refer patients to us: Download here.
This form is to be signed by your referring veterinary surgeon prior to your first appointment with us.
It is preferred any relevant patient history is accompanied with this form.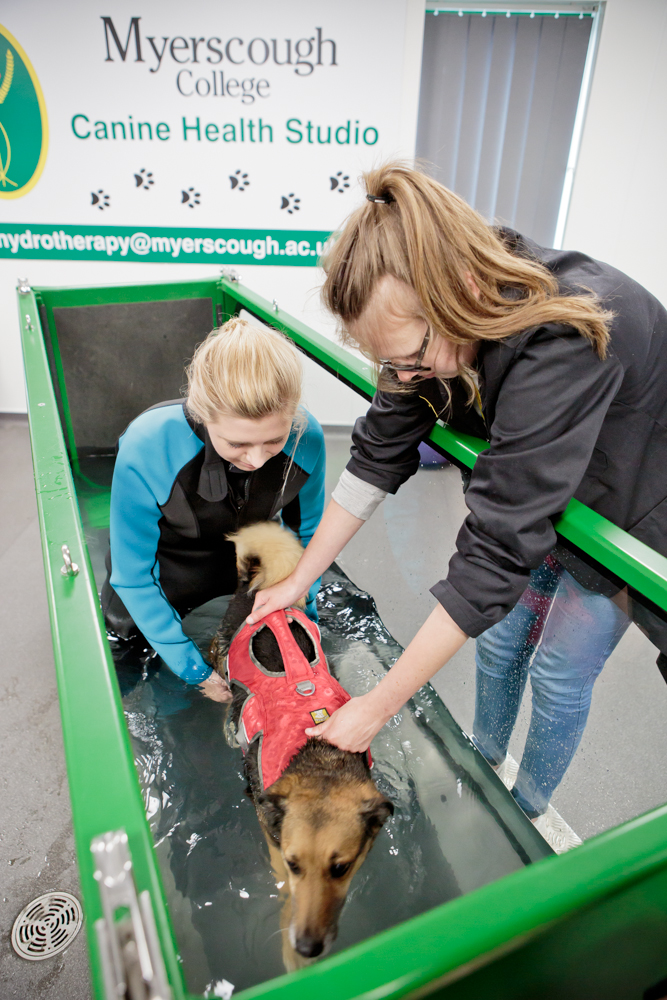 The Staff
Work with veterinary referral
Communicate with the vets regarding the treatments carried out,
Have professional and public liability insurance
Liaise with other professionals such as veterinary surgeons, nurses, behaviourists, animal owners
Participate with continual professional development
The Chartered Physiotherapist title ensures that the physiotherapist adheres to the chartered society of physiotherapy regulations and standard of practice
Charlotte Wright – Hydrotherapist 
Charlotte is a fully qualified canine hydrotherapist and is a member of the National Association of Registered Canine Hydrotherapists (NARCH). As a member of NARCH, this ensures that the registered hydrotherapist adheres to the highest professional standards and ethics. The relevant qualifications, training and maintenance of a continual professional development record is essential as a NARCH member. Pet owners, referring veterinary professionals and pet insurance providers can be confident that dogs in the care of an a registered hydrotherapist receive the highest standards of treatment. 
Charlotte gained her hydrotherapy qualification in 2015 at Greyfriars in Guildford, a leading veterinary practice within the UK for veterinary referrals and rehabilitation. She currently works at Myerscough College and Fylde Coast Hydrotherapy, specialising in aquatic treadmill and pool-based techniques and has experience working with a wide-variety of orthopaedic and neurological conditions. 
Charlotte has grown up and worked around animals her whole life, with a particular love for dogs and horses. She has previously worked at kennels, veterinary practices, as well as teaching practical and theory classes for FE and HE in Animal Management at Myerscough College. Charlotte continues to develop her knowledge at the benefit her hydrotherapy clients through regular CPD events. 
Charlottes Qualifications: 
Post Graduate Diploma in Veterinary Physiotherapy
Level 3 Certificate in Hydrotherapy for Small Animals. Some of the modules within this qualification includes: 
Canine anatomy and physiology 

Canine first aid 

Pool water management 

Understanding orthopaedic conditions 

Understanding neurological conditions 

Level 3 Advanced Water Treadmill 
Level 3 Diploma in Animal Management 
Additional qualifications: 
Post-graduate Certificate in Education (PGCE) 
BSc (Hons) in Wildlife Conservation with Zoo Biology
Donna Griffiths - Physiotherapist
Donna is a fully qualified Chartered Physiotherapist and a category A member of ACPAT - the Association of Chartered Physiotherapists in Animal Therapy. She currently works in both the human and animal fields of physiotherapy, thus allowing for development of her skills as it happens in the human field and applying that to her animal treatments and vice versa.
She qualified in 1996 and has worked within the NHS throughout her career and currently works as a musculoskeletal Specialist Orthopaedic Practitioner Physiotherapist within Lancashire Care Foundation Trust. Within this role she works alongside GP's and orthopaedic consultants and organise and diagnosis patients for surgical or conservative interventions. 
Within her animal therapy she currently works from Myerscough College doing physiotherapy treatments for a number of veterinary practices; works within a practice in Bamber Bridge and works with the Orthopaedic Veterinary Consultants from Kentdale Orthopaedics. She has been treating animals since she qualified as a physiotherapist so has 17 years experience in the treatment of animals and has bred and lived with animals throughout her whole life. She sees a number of different conditions relating to neurological and orthopaedic injuries, surgical repairs and work ups for working dogs including pre season assessments and fitness rehabilitation. She will also review working animals for potential problems that may arise from their conformation or activities of daily living. She also works with the working dog in the agility world and has had a number of dogs that have been injured and returned to complete at Olympia and Crufts.
Donna's qualifications:
MSc Research and Development
BSC Hons. Physiotherapy
ACPAT (A) Physiotherapist
City and Guild Level 2 Canine Studies.