Myerscough scoops national award for apprenticeship provision for third year in a row
Published

Wednesday 15 March
For the third straight year, Myerscough College's apprenticeship provision has again achieved national recognition at the annual AAC Apprenticeship Awards.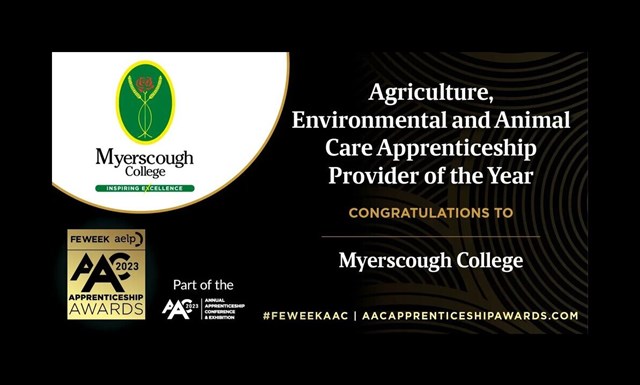 Myerscough was named the Agriculture, Environmental and Animal Care Apprenticeship Provider of the Year category, defending the title the College won in both 2021 and 2022.
Myerscough was also shortlisted in the category of overall national Apprenticeship Provider of the Year.
The FE Week and AELP AAC Apprenticeship Awards are a celebration of excellence in apprenticeship delivery in the UK and provide an opportunity to give the recognition employers and providers deserve.
If you feel that you don't want to attend College full-time, but would prefer to secure a job and gain qualifications whilst at work, then Myerscough College has a wide range of apprenticeship options available to you.
Myerscough is committed to supporting the development and roll out of apprenticeship opportunities across the full spectrum of public and private sector employers. As a national provider of work-based training within the land-based sector we offer a choice of apprenticeships which embrace a wide range of occupational roles and sectors. We regularly liaise with industry and our programmes are designed to develop a skilled workforce capable of meeting the challenges currently being faced by the sector.
Twenty winners were awarded gongs in the 2023 Annual Apprenticeship Conference Awards in Birmingham.
The special black tie event at the end of the tenth annual AAC saw individuals, training providers, employers, universities and colleges recognised for their efforts in the apprenticeship world.
The sixth awards ceremony, delivered in partnership with City and Guilds, attracted a record 375 nominations across the 19 categories, with 20 winners being announced and five organisations recognised as highly commended.
Shane Mann, managing director of FE Week's publisher Lsect and AAC awards co-host, said: "As chair of the judging panel, I can confirm we were once again overwhelmed by the number and quality of the nominations we received.
"Great apprenticeships don't happen by accident. Our winners demonstrate that excellence happens when dedicated professionals in employers and training providers work in tandem with the apprentice experience at the heart of everything they do.
"Tonight we're proud to show off the very best the apprenticeships sector has to offer. Congratulations to all the winners and thank our team of amazing judges, sponsors and partners. We couldn't have done it without them."