Myerscough recognised in BIBAs 2023
Published

Monday 18 September
Myerscough College and University Centre has been recognised for the quality of its provision in the prestigious 2023 BIBAs.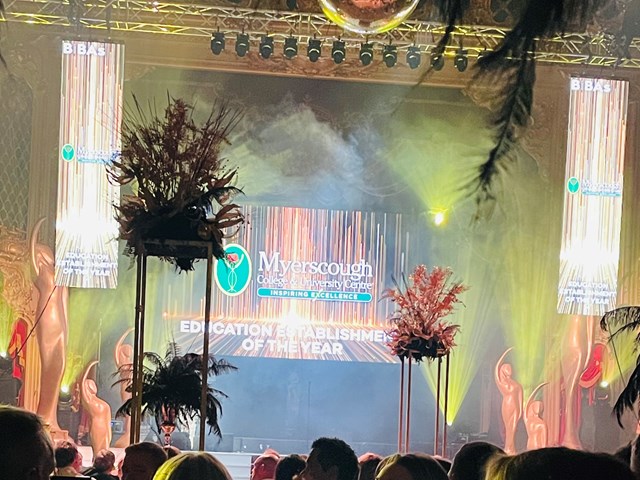 Run by the North & Western Lancashire Chamber of Commerce, the Be Inspired Business Awards (BIBAs) is Lancashire's longest running, largest and most prestigious business awards ceremony.
Myerscough was a finalist in the category of Education Establishment of the Year, making the shortlist following a vigorous judging process which included a detailed written submission, and a presentation and interview in front of a panel of business experts and leaders from across the county. This was followed by a visit by the judges to Myerscough's main Bilsborrow campus.
Being named a finalist, for the third straight year, recognises the College achievements and vital role that Myerscough has played in helping the county over the last year, and highlights the College's outstanding work across both academic and professional services operations.
In total, the BIBAs had more than 20 awards, involved over 80 judges, and welcomed more than a thousand guests to a ceremony at Blackpool Tower's iconic ballroom.
Babs Murphy, chief executive at the Chamber, said: "There's no doubt that every finalist, through our gruelling judging process, really deserves their place in this list.
"They have not only told but shown our judges that they have what it takes to succeed, and have absolutely earned the right to shout about their progress in this year's competition, which I encourage them all to do very loudly.
"Our judging process is intentionally no picnic. It is arguably the most robust and in depth of any business awards competition in Lancashire, and it's what makes the BIBAs so highly respected. Any business, charity, community group or individual that's reached the finals, and endured the scrutiny we expose them to, has done a great job that really ought to be celebrated.''