Myerscough College girls are on the ball
Published

Tuesday 24 Sep 2019
A group of female students are showing that they're on the ball as they prepare to take women's football to a new level at Myerscough College.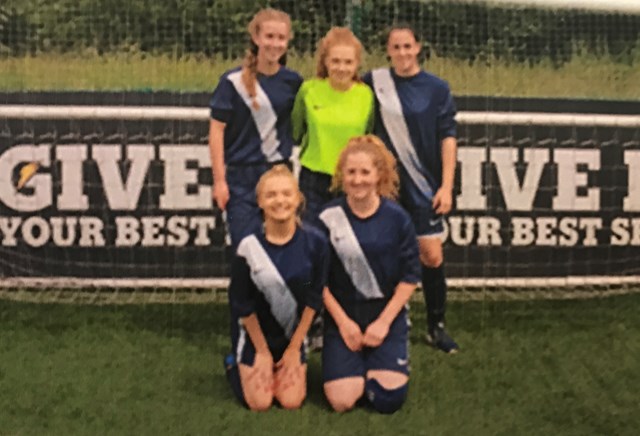 The students are all on a range of study programmes, including football studies, sports and exercise sciences and public services, and will represent Myerscough in a range of competitive fixtures in the Association of Colleges (AoC) North West League, while attending a range of modules in areas including fitness, research, physiology, psychology, biomechanics, nutrition and the athlete's lifestyle, as part of their course.
The fixtures are made more accessible by the fact that participating teams can choose between themselves whether they want to play a 7-a-side, 9-a-side, or a full 11-a-side match.
With the success of the England Women's team at the World Cup in the summer, and the increasing popularity and numbers of females playing football, it makes for the perfect time for Myerscough to expand their provision and have a dedicated, representative girl's football side. Female students are already eligible to play in male college fixtures, but this will now be the first time for more than a decade that they've been able to play in their own specific competition.
Myerscough football tutor, Gemma Newson is co-ordinating the new team and says the success of the women's game, means that there has never been a better time to strengthen provision:
"Football is one of the fastest growing participation sports for women in the UK. Our programmes give girls the chance to gain a qualification in the sports industry, while at the same time as developing as a player. A qualification in football or sport studies could lead to a wide range of career opportunities for these girls, including football coaching, physiotherapy, journalism or even professional playing.
''The International success of the England Women's team, especially in recent years, has driven awareness of women's football. We want to improve skills, knowledge and understanding of the game, and create an environment that helps students develop, whilst providing them with an education to enable them to one day develop a career in the sector.
''It's exciting for the students, and it's been a long time since we had a team. Hopefully we can build on this and attract more female football students next year.''
For more details about the football and sports study programmes available, click HERE and HERE 
by Dave Salmon
DSalmon@myerscough.ac.uk