Myerscough College gear up for Saltex Cup at Leicester City FC
Published

Friday 25 Oct 2019
Saltex 2019 is now less than a week away and runs from 30th to 31st October at NEC, Birmingham.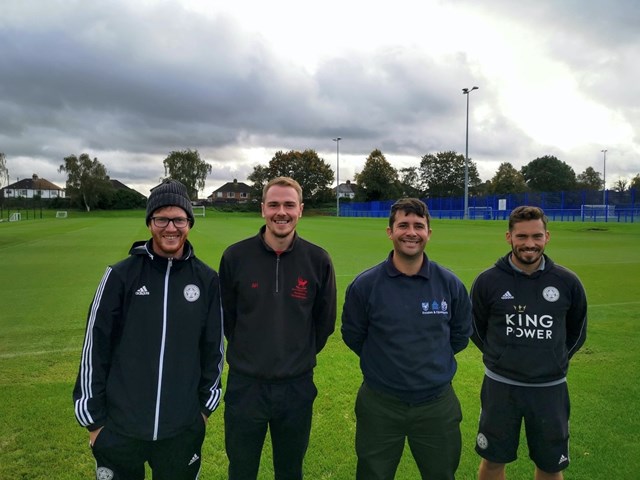 The event is again another chance to network with industry professionals from across the globe. Myerscough College will again be in attendance and the team can be found on stand C220 providing expert information, advice and guidance on its range of education programmes and apprenticeships.
Saltex also brings a skills competition known as the Saltex Cup. This year Myerscough College are breaking new ground and entering a team solely consisting of apprentices. The team which consists of leaners from Leicester City Football Club, Warwick School and Redditch Golf Club. Myerscough College apprentices Ryan, Nick, Scott and Ash have studied Level 2 or Level 3 apprenticeships under the expert guidance of workbased tutors Simon Dadge and Adam Shoesmith. 
Lee Price, Employer Services Manager at Myerscough College shares his thoughts on the competition, saying: "Competition is a major part of everyday life and being able to work and operate under such conditions is a great attribute for anyone to have.
''The Saltex Cup gives our learners the chance to pitch their skills against other competitors, but also to network, share experiences and best practice, and also to meet a new group of peers and industry experts. I wish the team from Myerscough and all the other colleges the very best in the competition. It's great to showcase the talents of the next generation of Sportsturf professionals. This year Team Myerscough will also look the part, thanks to some sponsored branded workwear from Turf Business. A big thanks also to the team at Leicester City for hosting our preparation day."
The SALTEX College Cup, is a student-led sports turf challenge – an academic test of turf management knowledge for student competitors who are enrolled at a college on a relevant course of study. Being staged at SALTEX, on 30 October, at the NEC Birmingham, teams of up to four students will embark on a competition consisting of paper-based multiple choice and short answer questions concerning turf management, plus answer questions based on a case study in the form of a presentation. The competition will also include live test samples for the physical identification of threats to turf health.
For more information on education, training or apprenticeships at Myerscough College please contact Employer Services on 01995 642255 or email employerenquires@myerscough.ac.uk
by Dave Salmon
DSalmon@myerscough.ac.uk