Myerscough apprentice recognised among best young landscapers in the country at Worldskills finals
Published

Monday 20 November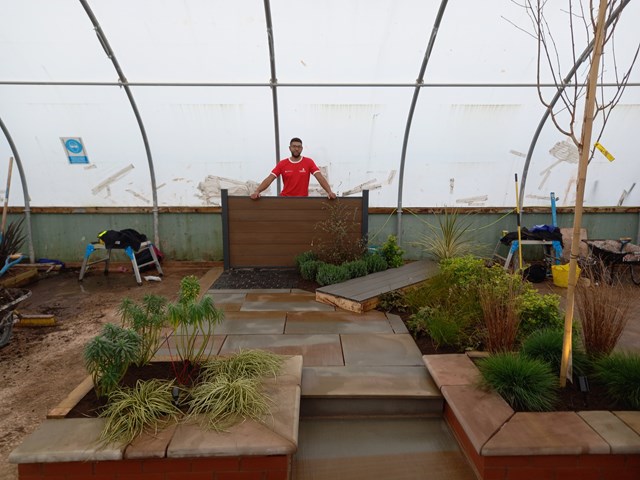 Ceri Furber won Bronze in landscaping at a prestigious award ceremony last week, after earlier in the year competing alongside the other finalists from across the country to be crowned the UK's best young landscaper.
Finalists underwent a process of regional heats and intensive training before competing in the finals, held at Oldham College.
Ceri, along with the seven other finalists, had just 16.5hrs to build a twelve square metre project piece from scratch with elements including paving, decking, fencing, brickwork, lighting, water feature and planting.
Everything is measured to precise tolerances of around 3mm, so accuracy, quality of finish and time management were essential.
Designed by industry experts, the WorldSkills UK Competitions equip apprentices and learners with the world-class skills needed to help UK businesses better compete globally.
Minister for Skills, Apprenticeships and Higher Education Robert Halfon said: "I would like to congratulate all the competitors in the UK WorldSkills final.  They have done an amazing job showcasing their exceptional talent.
"They are all winners in my eyes for choosing a pathway that will build their skills and career potential, allowing them to climb the skills ladder of opportunity."
Ben Blackledge, Chief Executive, WorldSkills UK said: "This is a life-changing moment for these young people. They are the new generation of high flyers that will give UK employers a competitive edge.
"Our finals not only celebrate the best in young talent, but also provide a vital opportunity to see how skill development in the UK stacks up both domestically and against our international neighbours. 
''Skills will continue to be a key differentiator for business both at home and abroad and through our programmes we are working to ensure that all apprentices and students across the UK can gain access to high-quality technical education and apprenticeships that lead to real success for them and the UK as a whole."
Click here to find out more about the range of apprenticeships available at Myerscough College