Myerscough and M-Sport renew partnership
Published

Friday 15 Jul 2022
University Centre Myerscough are set to strengthen their close relationship with M-Sport and their FIA World Rally Championship winning team.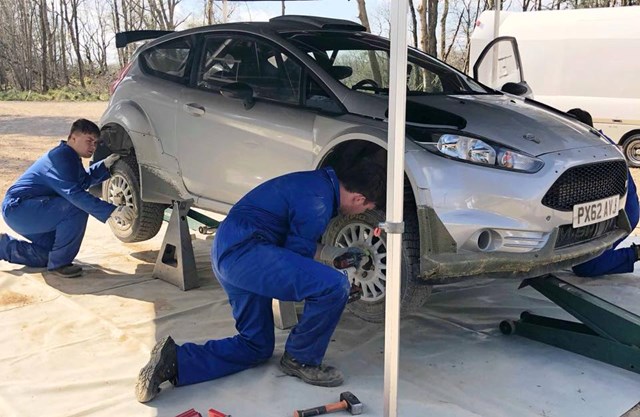 Renewing the successful partnership will provide further opportunities for students in the competitive world of motorsport.
Myerscough and M-Sport have long been at the forefront when it comes to improving the prospects of talented youngsters with aspirations of a career in motorsport.
For several years, Myerscough students worked with the Cumbrian squad as part of their FIA Junior World Rally Championship and MSA British Rally Championship teams – getting a practical insight into the detail at motorsport's highest level.
The implications of the global pandemic may have halted the scheme temporarily, but a recent visit to the Bilsborrow campus by M-Sport's Commercial Director, John Steele, has prompted a renewal and formalisation of the longstanding collaboration.
From 2022, students studying for degrees in Motorsport Competition Car Technology and Motorsport Management and Logistics will have an opportunity to work at M-Sport's state-of-the-art headquarters over the summer as part of an apprenticeship-style training programme.
M-Sport has also offered access to its new Evaluation Centre where leaders in automotive technology can follow a concept from design to production on one exclusively situated and expertly equipped site.
Students will use the experience to put everything they learn from the collaboration into practice, and selected students will also have an opportunity to attend European rounds of the FIA World Rally Championship as an integral member of one of rallying's most successful teams.
John Steele, M-Sport Commercial Director, said: "We are looking forward to working with Myerscough and having an input into their programmes, helping students' understanding of core competence at this level of the industry. We are prepared to invest in both time and equipment on this project and wish to tap into the skill base of the degree students.
"Our long-term goal is to employ the graduates in full-time roles, but by formalising the process we can ensure that students are ready to work at the high level required. In a reciprocal arrangement we also hope to train staff recruited from near our Cockermouth facility at Myerscough."
Dave Gardner, Myerscough Head of Motorsport and Agricultural Machinery Engineering, said: "Our relationship with M-Sport is a long standing one, with several former students over the years working for the team following graduation.
''This is a fantastic opportunity to strengthen our links with a team operating at world level."
Places are still available for September 2022 entry across a wide range of motorsport study programmes.