FEATURE: Myerscough's female cricketers knocking the sport for six
Published

Tuesday 1 Feb 2022
Cricket is one of the most popular sports in the world and it's the national sport of a number of countries.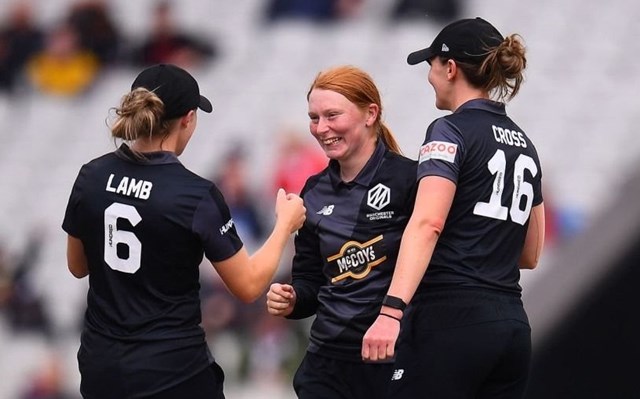 Women's cricket has soared in popularity in recent years, and the positive outlook for the future of sport comes from the fact that there is a high level of interest in the game, including the current women's multi-format Ashes being contested Down Under between England and Australia.
Myerscough College has welcomed an increasing number of female cricket students in recent years, with that number rising every year.
One of those is recent former student, Hannah Jones (pictured above).
Hannah studied with Myerscough's Old Trafford Centre between 2015 and 2017 and was the first female player to represent Myerscough's First XI. Since she completed her studies, she has gone on to start her professional playing career at an exciting time for women's cricket.
Hannah has spent a season representing North West Thunder and Manchester Originals as well as making her debut for England A, against the Touring New Zealanders where she picked up two wickets in a One Day International. Hannah also picked up her maiden five wicket haul at the back end of the Rachel Heyhoe Flint trophy last Summer with figures of 5/33 against The Stars at Beckenham. She also made her debut in the inaugural Hundred competition last summer taking some key wickets and helping Manchester Originals to their first win in the competition.
Hannah said: ''Since I finished, I have played for both Didsbury men and women's team at weekends and continued to play for Lancashire. I was lucky to be asked to play for North West Thunder and I gained a lot from this experience. When this finished, I was overwhelmed when I was offered by North West Thunder coaches a full-time contract and then a Manchester Originals contract.
''At the beginning, it was nerve racking and overwhelming, but the other students and staff made me feel like I was an equal and we all got on really well; it was useful knowing someone on the course as well.
''The games were an ideal time to put the classroom information into a game situation. The experience of the other colleges and how they were taught in the different surroundings. The team spirit was increased with the games and we were able to go back and learn from the games.
''I have a number of great memories including being accepted as one of the team and my hattrick at Denstone College being picked up in celebration by one of the team. Also, going on tour to Somerset and gaining from the experience of the tour seeing new places and playing in the team.
''My advice to prospective female students is to just go for it, if you love the game you will build up friendships around the game and learn from their experiences. Don't worry about being the only female as learning the game is more important and even if you are not confident the course builds up your confidence.''
Currently studying at Myerscough's Old Trafford Centre is first year student, Charlotte Neal.
Charlotte is a talented top order batter and wicketkeeper who is currently involved with Cheshire and part of their emerging player's programme. She represented Cheshire Under 18 Girls last year.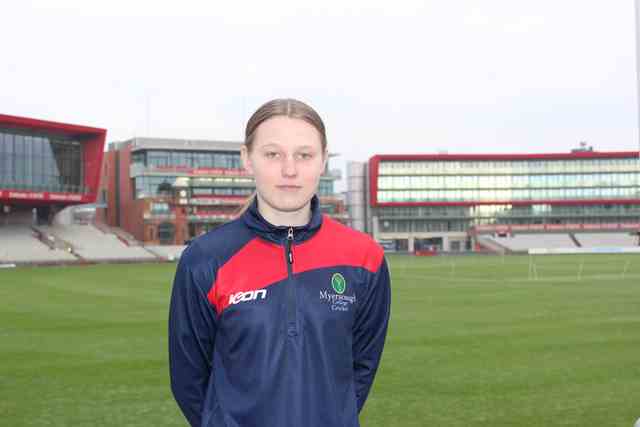 Charlotte said: ''So far, I have found the course interesting to write about in assignments and learn about, I also think the course is perfect for me because it's all about sport. I feel welcomed by everyone and don't have any worries about it. I find it challenging sometimes when training, but I already feel like I'm improving by it. 
''I really enjoy training because the sessions are always filled with drills that will improve my skills and I like how they are laid out and how they coach us. 
''I found the games helpful because it helped me get closer to the boys and be able to push myself to become more confident in matches. 
''My advice for a female thinking of joining the course would be to push yourself and don't be afraid to try new skills. I'm looking forward to playing more matches with the boys and I'm looking forward to seeing how much I improve in the season.''
At Myerscough's Preston Centre, recent former student, Lauren Burgess bagged herself a position at the Lancashire Cricket Foundation as Women and Girls Development Officer, working on outreach programmes at clubs and schools across the North of the county.
We caught up with Lauren to discuss everything about her time at Myerscough and career to date.
Watch here: