Could you be our next Chief Executive and Principal?
Published

Wednesday 8 March
We are searching for our next Chief Executive and Principal to lead Myerscough College and University Centre into a new era.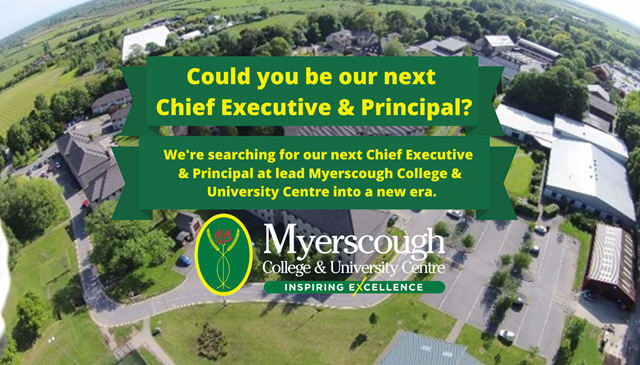 Following the decision of Alison Robinson to retire in August, applications are now open as we seek a new outstanding Chief Executive & Principal. The successful candidate will lead Myerscough through its next phase of development and be a visible presence on campus and externally. Together with the Governors, leadership team, and academic and professional services colleagues, they will build on everything we have achieved by continuing to innovate and evolve, giving our students and staff the best possible experience and environment in which to develop and thrive.
The Chief Executive & Principal will bring senior strategic leadership and management experience gained in a complex education provider, and will provide academic, strategic, and organisational leadership that captures our ambition and drive.
They will have outstanding interpersonal skills, embody Myerscough's ethos and values, and be the guardian of our mission, culture, and values.
Why join us?
At Myerscough College and University Centre we have a nationally and internationally recognised Further Education, Higher Education, Adult Education and Apprenticeship provision. The Further Education provision is well established, the Higher Education provision has a well-recognised partnership with the University of Central Lancashire and the apprenticeship provision is operational nationally. We offer a rewarding and enjoyable working environment, where colleagues are inspired to make a positive difference to the educational experience and employability of our students. We are one of the top five largest land-based and sports colleges in the UK.
Visit our website https://bit.ly/CareersAtMyerscough for the full list of excellent benefits our college offers.
For more information and details on how to apply, please visit www.doddpartners.com/vacancies to review the colleges assignment brief. To apply, please download and complete the College's application (links will be found in the assignment brief) along with your covering letter and CV to contactus@doddpartners.com referencing assignment DP3080.
Should you wish to have a confidential discussion about the role, please call John Dodd on 07545 431848 or 01244 738450.
Applications should be sent by the closing date of 9am on Tuesday 11th April 2023.