University Centre Myerscough's Sustainability Research showcased at International Conference
Published

Wednesday 13 Jul 2022
University Centre Myerscough's research into sustainability in golf has featured in the International Turfgrass Research Conference, in Copenhagen.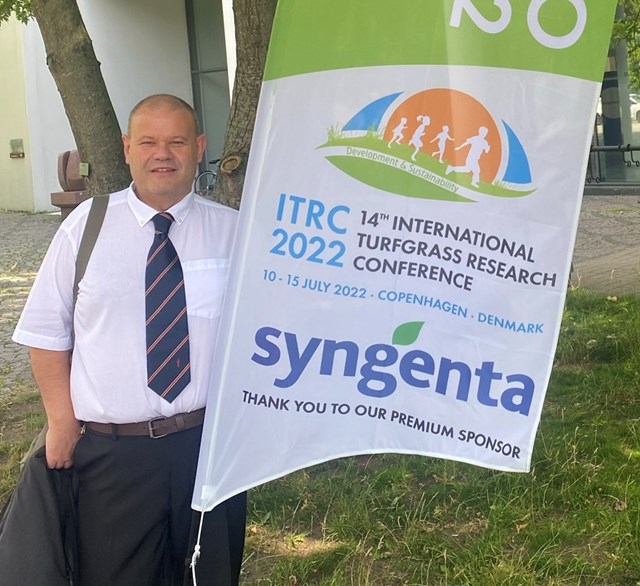 The event aims to support the diverse challenges affecting the future of the turfgrass sector, including: climate change; restrictions on chemicals and fertilizers; and pressure on natural resources such as water, energy and land.
Experts from across the world met to exchange knowledge and experiences with researchers, greenkeepers, course superintendents, planning authorities, technical experts, consultants, and various other top industry delegates.
Dr John Fry and Dr Stewart Brown presented the results of UCM's research into golf course sustainability, a collaborative project with the R&A as part of their Golf Course 2030 initiative, to a packed arena at the University of Copenhagen, Frederiksberg Campus
The talk explained how the golf industry can be supported in maintaining and improving various aspects of the course (including as tees, fairways, green approaches and bunkers) in light of sector changes.
A practical roadmap was offered, whereby golf clubs can address the challenges posed by climate change, resource constraints and regulation, by engaging with a series of steps to improve course condition and playability. A number of case studies of best practice we also offered.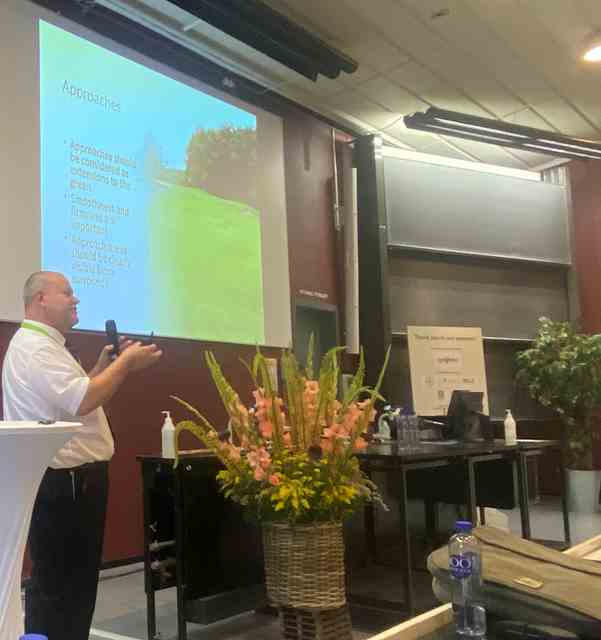 Dr John Fry, Project Lead, explained: "Much of the current sustainability research focuses on the golf greens themselves, and there is little known about other areas of the course – such as tees and fairways.
''This is particularly important given the amount of land dedicated to these such areas, and currently it appears golf greens are overly prioritised".
This UCM research project fills that gap, by drawing together an agreed standard of provision and associated measurement methods to areas of the golf course beyond the green. The results have been subjected to a number of tests in the golf environment, to ensure the validity of protocols to a cross section of clubs and managers.
John added: "The results provide empirical research and guidance to the R&A, golf's most influential organisation that supports over 30 million golfers in 143 countries worldwide.
''This is testament to the research profile Myerscough as built in regards to sports and sportsturf research"
Dr Stewart Brown, Senior Lecturer in Sportsturf Agronomy said: "We are proud to present the results of this project at what is the pinnacle of international conferences in the sportsturf arena.
''We will share our results on guidelines and standards which will assist golf course managers way into the future, thus helping to safeguard this great sport for years to come".
The research will also be published in a special issue of the International Turfgrass Society scientific journal on sports turf research.
For more information contact Dr John Fry on jfry@myerscough.ac.uk