Training camp heats up preparation for Myerscough golfers
Published

Monday 30 January
A group of Myerscough golf degree students travelled to Portugal for a warm weather camp in preparation for the 2023 season.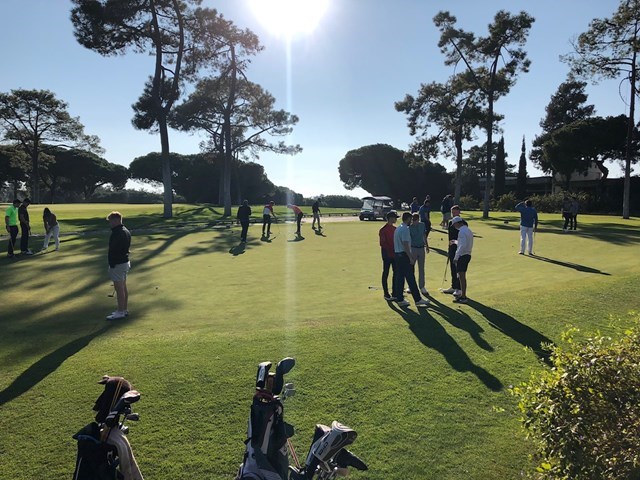 University Centre Myerscough students headed to the excellent facilities at the Dom Pedro Vilamoura Resort for their annual development camp which is a large part of the students' winter provision ahead of a hectic year of competition both at home and abroad.
The group had a great time developing their golf games ahead of the second half of the BUCS Golf Season and Collegiate & Prospects Tour, while also enjoying world class training facilities and expert technical playing advice from a quality support team.
Rick Daniels, Myerscough College and University Centre's Golf Golf Performance Director, said: '"Once again our students followed an intensive programme of coaching and playing. This is a continuation of Myerscough's plans to ensure our students are given the most advanced and thorough preparatory schedules available.
"The coaching they receive focuses on all aspects of their game in conditions conducive to good golf, including warm up preparation, long and short game practice and gym sessions. Players also experience a number of rounds of golf over differing courses that the resorts have to offer, whilst staying in luxurious accommodation.'
"The warm weather training camps provide the students with an excellent opportunity to continue their training and preparation at first class facilities prior to the start of the season."
The current crop of Myerscough College and University Centre golfers have various sides who compete in the British Universities & Colleges Sport Northern Leagues, under the banner of UCLan. The students also successfully play on the Collegiate & Prospects Golf Tours.
Meanwhile, in February, a group of students are being offered another unforgettable opportunity, by providing event logistics and support at the Aramco Saudi Ladies Invitational event, at Royal Greens Golf and Country Club, Jeddah.
The students, who are undertaking the trip courtesy of event organisers, will attend in a scoring  and caddying capacity for the week, which is hoped will become an annual opportunity as part of Myerscough's HE Degree provision.
Rick Daniels adds: ''Due to established and existing links with the professional golf tours, we have been approached by the Tournament promoters to provide a team of scoring staff and operational support for TV/Media to ensure a smooth, logistical running of the professional event after two years of 'issues' with the locally sourced volunteers.
''This exciting event was introduced to the Kingdom in 2020, making it the first professional women's golf event ever in Saudi Arabia. It has now helped introducing the sport to thousands of local females thanks to the Ladies First Club, which aims to provide free golf across the whole country.''
In the most recent edition, major champion Georgia Hall was on top form as she claimed victory by five shots in March 2022. It's now set to return bigger and better than ever before in February 2023 with a huge $5m prize fund.