#NAW2023 - Full steam ahead for Myerscough rail apprentices
Published

Monday 6 February
It's National Apprenticeship Week.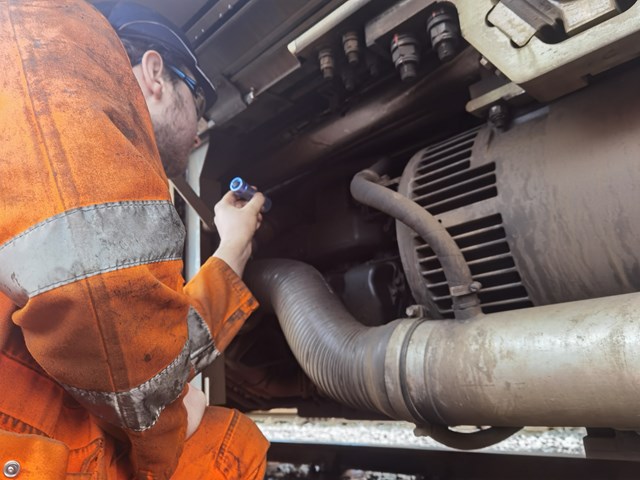 Myerscough College has overcome the challenges faced by the skills shortage in rail-related roles to inspire a new generation of young people, and currently boasts a large intake of Railway Engineering Technician apprentices, in partnership with Northern.
The apprentices are employed within depots across the country, while continuing their learning journey with Myerscough.
They spend some time as residential learners at Myerscough College's main campus at Bilsborrow, utilising the College's multi-million-pound engineering centre to learn the basic principles of engineering and rail engineering technician knowledge. The remainder at their apprenticeship continues at their depots with their host employers, getting hands-on experience and gaining crucial skills, knowledge and behaviours.
A unique selling point of the delivery model is also that the apprentices will also spend periods of time with the National Training Academy for Rail (NTAR) in Northampton in their state-of-the-art rail facility.
Myerscough College has a long and proven track record of delivering a range of engineering apprenticeships, supporting scores of apprentices with their training across the country. Science, Technology, Engineering and Maths (STEM) remains a key driver and focus in terms of Myerscough apprenticeships and education provision, and the number of apprentices in this area is growing rapidly.
Myerscough College is proud to support the UK rail industry in its efforts to achieve an integrated approach to education, professional development and training through this apprenticeship programme.
Lee Price, Employer Services Manager at Myerscough College said: "With the current developments and expansion of the rail network in Britain, it's important that we attract and train new engineers who can progress to be the professionals and managers of the future.
''We are really proud to work with Northern Trains, East Midlands Railway, CAF Rail and NTAR in the delivery of this exciting provision.
The three-year Advanced Railway Engineering Technician Level 3 apprenticeship begins with a residential first year at Myerscough College. That's followed by two years 'on the job' learning, before the apprentices complete their training and join as fully qualified Engineering Technicians.
Tricia Williams, chief operating officer at Northern, said: "We're very proud to be the leading provider of rail industry apprenticeships in the UK.
"Each and every one of the graduates from our academies has the potential to be an industry leader of the future – bringing their skills, talent and ideas to the table.
"This is such an exciting sector to be a part of and there's no better grounding for a successful career in rail than an apprenticeship, which combines classroom learning with on-the-job experience." 
For more information on apprenticeships at Myerscough College please contact the Employer Services Team on 01995 642255 or email employerenquires@myerscough.ac.uk