Myerscough's apprenticeship provision shortlisted for two national AAC awards
Published

Friday 6 January
Myerscough College's apprenticeship provision has been shortlisted for national recognition in two categories at the annual AAC Apprenticeship Awards.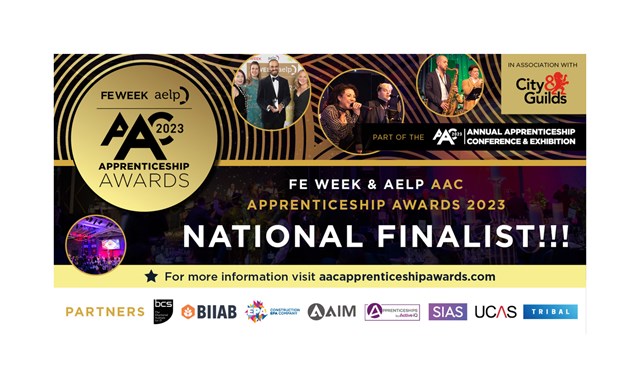 The AAC Apprenticeship Awards, now in their sixth year, are a celebration of the very best in apprenticeship delivery and provide well-deserved recognition for the people, teams and organisations that make excellent apprenticeships happen.
For the second consecutive year, Myerscough is nominated in the illustrious Apprenticeship Provider of the Year category, alongside Manchester Metropolitan University, Paragon Skills and Apprentify.
Myerscough is also shortlisted in the category Agriculture, Environmental & Animal Care Apprenticeship Provider of the Year, up against Haddon Training Limited. Myerscough are defending champions in this category, having won the award in 2021 and 2022.
A record 375 entries were received from training providers, colleges, universities and employers and we can now reveal the shortlist of those who go forward to the national awards ceremony in March.
Shane Mann, managing director of FE Week's publisher Lsect and chair of the judging panel, said: "I know I speak for all AAC awards judges when I say how impressed we were with the standard of nominations this year.
"The quality of nominations gets stronger every year, which makes our job as judges tougher and tougher. Each of this year's finalists has a powerful story to tell about how putting excellence and innovation at the heart of their provision, with staff at every level working hard to give apprentices the best experience possible.
"We know it has been another tough year in apprenticeships, so I can't wait to bring the entire sector together at the AAC in March to celebrate the success of our finalists."
The awards, this year delivered in partnership with City and Guilds, feature 19 categories.
Paul McGrail. MScClick here to view Paul McGrail. MSc's profile
Paul McGrail, Assistant Principal Apprenticeships & Skills at Myerscough College, said: ''I'm super proud of our Apprenticeship & Skills Team to be shortlisted again for the AAC Apprenticeship Awards 2023.
''The focus this year was very much on 'Careers Not Courses' and 'Apprentices making exceptional progress in relation to their starting points'.
''This is a real credit to all of our apprentices, employers, tutors, support and back office staff as well as all the managers that oversee this provision.''
AELP chief executive Jane Hickie said: "AELP is delighted once again to be coming together with FE Week to host the AAC Apprenticeship Awards.
"It is incredibly heartening to see that, despite the extremely challenging conditions the sector faced in the last year, providers and employers all over the country have continued to do amazing work in supporting apprentices to fulfil their potential.
"Throughout the judging process we have seen so many impressive examples of best practice in delivery for our learners and employers. I am very much looking forward to meeting the nominees at the presentation of awards at the AAC gala dinner on March 14, and of course celebrating the achievements of the winners themselves."
There are 27 providers vying for 14 training sector awards this year including awards for the best providers in engineering, hair and beauty, care, digital and construction.
The winners will be announced at the Annual Apprenticeship Conference taking place on March 13-14, in Birmingham.
If you feel that you don't want to attend College full-time but would prefer to get a job, earn a decent wage and gain qualifications whilst at work, then Myerscough College has a wide range of apprenticeship options available to you.
Myerscough is committed to supporting the development and roll out of apprenticeship opportunities across the full spectrum of public and private sector employers. As a national provider of work-based training within the land-based sector we offer a choice of apprenticeships which embrace a wide range of occupational roles and sectors. We regularly liaise with industry and our programmes are designed to develop a skilled workforce capable of meeting the challenges currently being faced by the sector.