Myerscough's agriculture department stars in new BBC One consumer show
Published

Thursday 8 Sep 2022
Myerscough College's agriculture department has starred in a new consumer programme on BBC One.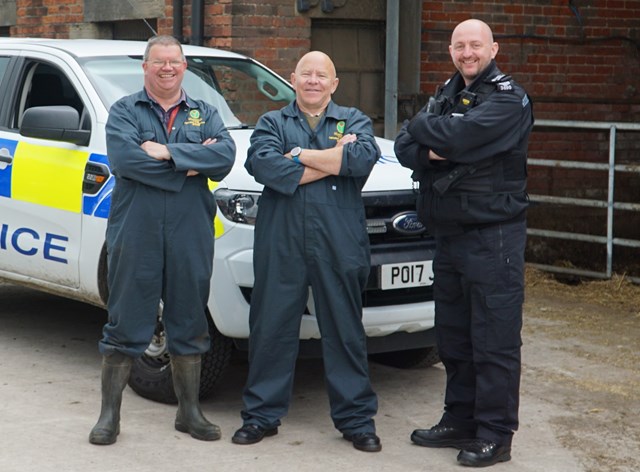 'Maximum Security' sees series presenter Dom Littlewood travelling the country to see how Britain's biggest brands and institutions lock up and stay secure.
The episode featuring Myerscough focussed on rural crime, with Dom chatting crime prevention advice and information with agriculture tutor, David Singleton, and Guy Hamlett from Lancashire Police, while driving a quad bike, a Myerscough tractor and learning about the value of livestock and sheepdogs.
The BBC filmed the segment at Myerscough's Lodge and Lee Farms earlier in the summer.
Dom says: "I want to help the nation protect themselves, their homes, families, businesses and even their pets from these unscrupulous thieves, so we can all feel a bit safer in our own homes. I can't wait for audiences to watch and take away some helpful tips and tricks to scupper criminal activity."
The TV appearance comes after Lancashire Constabulary and Myerscough College joined forces earlier this year to create an innovative addition to rural crime prevention tactics.
Farm Defender is a virtual reality (VR) experience that uses computer technology to create a simulated farm environment. Unlike traditional user interfaces, VR places the user inside an experience.
Accessed via a smartphone, users are immersed and able to interact with the 3D world. It is designed to educate users in an engaging and immersive way about the points on their farm which are vulnerable to organised crime gangs and offers advice on how to protect their equipment and property.
Originating as a Problem Oriented Policing idea by Sgt Guy Hamlett from Lancashire Police's Wyre Local Policing Team - which aimed to reduce the risks of rural communities being targeted by criminals and organised crime gangs - Farm Defender has been brought to life by experts and students at Myerscough College who have instrumental in developing the project.
Also earlier this year, Lancashire's Police and Crime Commissioner visited Myerscough College to outline his commitment to tackling rural crime.
Andrew Snowden said he was keen to explore opportunities to work together and paid a visit to Myerscough to meet some of the team behind the recently launched Farm Defender crime prevention tool developed by the College and Lancashire Constabulary.
The visit follows the Commissioner's recent announcement of a further 700k investment into rural policing over the next financial year which will be used to strengthen the Constabulary's rural task forces to tackle issues including theft of plant and machinery, wildlife crime and trespassing.