Myerscough Motorsport survive snowy opener to BTRDA Rally Championship
Published

Friday 17 March
Alfie Hammond and Phil Boyle saw success at last weekend's Malcolm Wilson Rally, by finishing an incredible 35th overall, 4th in the R2 class and 3rd in the BTRDA R2 Cup.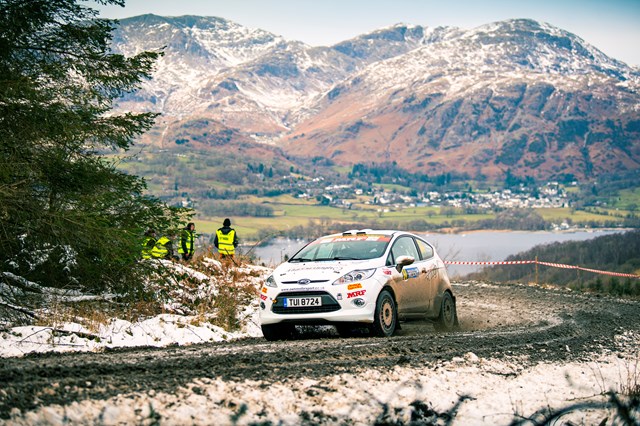 The Malcolm Wilson Rally hosted the first round of the BTRDA Rally Championship and was Alfie's first taste of the Myerscough Motorsport Fiesta R2 on gravel.
Conditions were atrocious going into the weekend with much of the Cumbrian forests left covered in snow. Organisers were forced to cancel stages and plan a new route prior to the start on Saturday morning, ensuring the crews could safely complete the stages.
The event started with seven miles through the Greystoke Forest complex. Conditions in the stage were very tricky and had caught out many drivers, with many sliding off the road due to the layer of snow on the stage. Alfie settled into the car on stage one, getting through the stage without any major moments. A sideways moment, with one wheel into the ditch, gave Phil a scare but the spectators loved the flamboyant driving style.
Alfie's speed increased over the next few stages, but a slide into a ditch on Grizedale South and a broken rim in Grizedale North put a pause on the climb up the leader board. There were plenty of jobs for the students to do in service to replace the rim and fix the issues to the rear hub and suspension.
The 20 minute services felt like 2 minutes but each and every student performed professionally and efficiently. With support in service from lecturer Bart Lang, students were able to fix the issues and keep Alfie and Phil in the rally.
Alfie commented: "I was very pleased with how my driving came along in the car and I am massively excited to see how myself and the team can do over the course of the season.
''I know where I need to work on improving to get the most out of the car and can't wait for the next rally."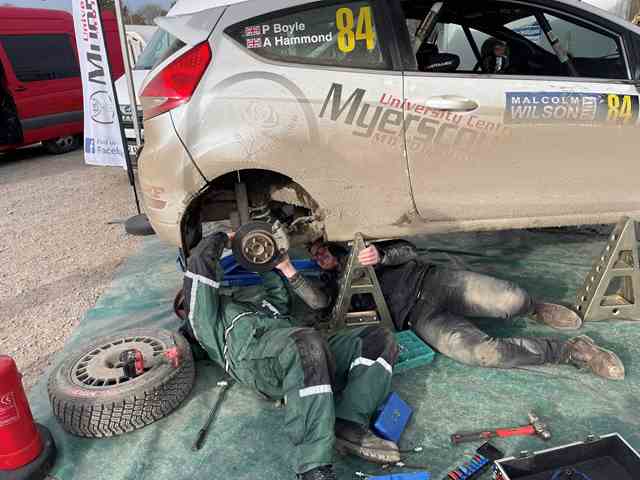 Phil was incredibly proud of the students, commenting: "Our service team from Myerscough worked very hard on preparing and maintaining the car before and throughout the rally.
''Alfie drove brilliantly and has quickly adapted to the Myerscough Fiesta R2. This is all promising for the year ahead."
The students will now prepare the car ready for the second round, the Rally Nuts stages on the 15th April, based at Builth Wells in Wales.