Myerscough learner a cut above in Student Greenkeeper of the Year Awards
Published

Tuesday 13 Sep 2022
A Myerscough College apprentice has been named the best student greenkeeper in the country after he scooped a prestigious national industry award.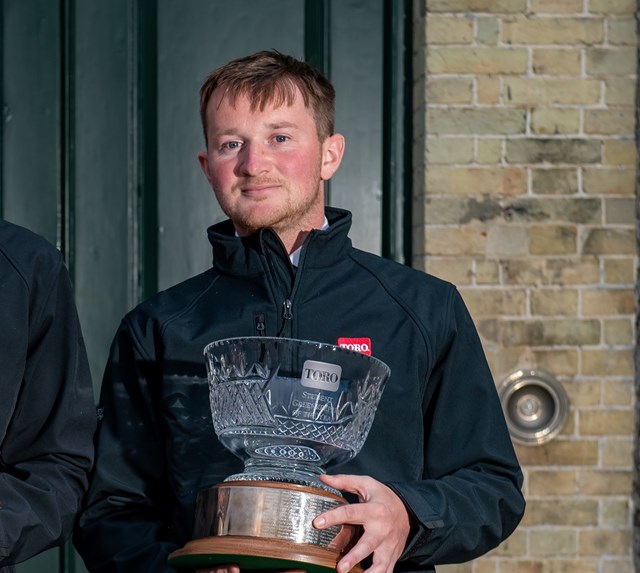 James Gaskell has been named winner of the 2022 Toro Student Greenkeeper of the Year, a national contest hosted by the British and International Golf Greenkeepers Association, BIGGA, and is sponsored by turfcare machinery and irrigation manufacturer Toro alongside official UK distributor, Reesink Turfcare.
Each year, a selection of the best student greenkeepers, selected from regional interviews hosted across the country, head to the two-day finals of the event, where they complete a variety of tasks designed to test their industry knowledge and their commitment to the profession.
The finals took place this year in the surroundings of the Goodwood Estate in West Sussex.
Ripon City Golf Club Deputy Course Manager James Gaskell was revealed as the 33rd winner of the Toro Student Greenkeeper of the Year Award.
James has been greenkeeping for five years, and is currently studying on the new Advanced Golf Greenkeeper apprenticeship Standard with Myerscough.
A talented golfer playing to a 1.6 handicap, James said his experience of playing competitive golf compliments his greenkeeping knowledge and the awards judges were impressed by his considerable dedication to the sport and his chosen career.
James said: ''I have been involved in greenkeeping for just over five years on a full time basis. While at university, I worked the summers at Bedale Golf Club and this turned into a passion.
''Once I finished university I applied for a greenkeeping role at Ripon City, making up a small team of four. I have gained qualifications including my Level 2 and my PA1 and PA2 spraying. These have helped me take on the deputy course manager role as colleagues have left or retired.
''I volunteered at the Brabazon qualifier at Alwoodley, where I worked all four days after work to help the staff out with preparations. I would like to volunteer to help out again, especially at an Open venue.
''My aspiration is to become a head greenkeeper when I feel ready and when a suitable opportunity arises. I play golf to a 1.2 handicap so I bring experience of competition play to compliment my greenkeeping knowledge.''
There was further recognition for Myerscough too, as Luke Charnley of Royal Liverpool Golf Club was named runner-up in the Young Greenkeeper of the Year category.
In total, seven Myerscough learners were nominated across the two categories.
Related: Seven Myerscough student greenkeepers named on national award shortlist
Myerscough a cut above in Student Greenkeeper of the Year Awards
Finalists completed a rigorous day of testing that included an exam, an essay question, grass and seed identification and a presentation on their career so far.
The Toro Student Greenkeeper of the Year Award was introduced in 1989, with an additional 'Young' category introduced in 2016. Previous winners and finalists have gone on to become some of the most influential characters in the greenkeeping industry, helping shape the sport of golf in the UK and further afield.
For winning the Toro Student Greenkeeper of the Year, James now receives: enrolment in the 10-week University of Massachusetts Winter Turf School; a two-week expenses-paid placement at Adare Manor, venue of The 2027 Ryder Cup; an all-expenses paid trip to the GCSAA Conference and Show in Florida; and a visit to Toro Corporate HQ, R&D Centre and Equipment Operations in Wisconsin.
BIGGA Learning and Development Executive Deb Burnett said: "Among the many activities BIGGA undertakes each year to assist the professional development of our members, the Toro Student Greenkeeper of the Year Awards are almost certainly the most inspirational.
''For those feeling disillusioned about the challenges our industry faces in coming years, our finalists provide all the reassurance you need to be convinced that greenkeeping and the sport of golf has a very bright future.
David Timms, national accounts manager for Reesink Turfcare, said: "After a record number of entries and a thorough two-week online interview process, it was a pleasure to welcome and meet the best talent in greenkeeping at Goodwood for the finals of the 2022 Toro Student Greenkeeper of the Year Awards.
''Everyone shone and it was a close competition. James is an incredibly worthy winner and I look forward to seeing what he goes on to achieve.''