GRADUATION: Myerscough student success celebrated as new Honorary Fellowships awarded
Published

Friday 8 Jul 2022
Myerscough College and University Centre has celebrated student success of the last three years with a host of graduation and award presentation ceremonies.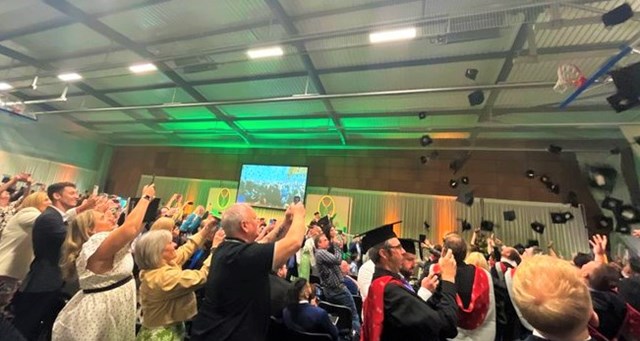 After not being able to stage graduation ceremonies for three years due to the pandemic, Myerscough's degree students completing their study programmes in 2020, 2021 and 2022 have been recognised for their achievements, while further education students have been celebrated at their own special ceremonies.
As usual, ceremonies have taken place for learners across Myerscough centres that have seen hundreds of Myerscough College and University Centre students presented with their qualifications in both Higher and Further Education, ranging from degrees and foundation degrees, through to BTECs, City & Guilds, and a host of other vocational qualifications and apprenticeships.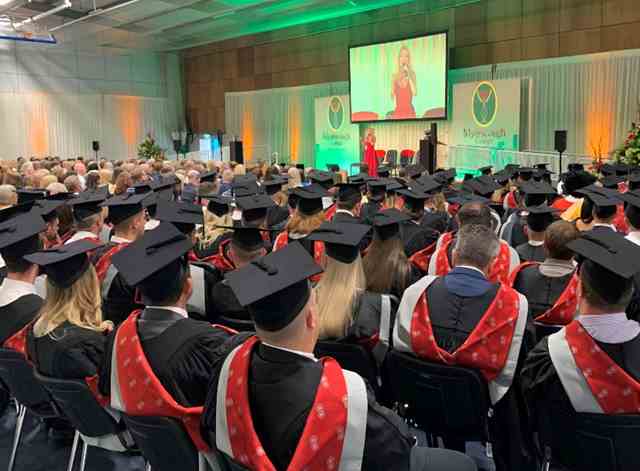 Alison Robinson, Chief Executive and Principal, said: ''It was fantastic to welcome to all our graduates, families and friends to our ceremonies, where we recognise and celebrate the achievements of our students from around the world, whether studying on-campus or online.
''This week has been a chance to celebrate, to join with families, friends and Myerscough staff to mark the end of one stage of life's journey and reflect on the next.
''It is an occasion that students have worked towards for a long time and the results reflect the commitment, hard work and dedication of students and staff at Myerscough. We recognise that the pandemic has created additional challenges for us all, but has hit our student population particularly hard during the last two years with repeated lockdowns and online study. For some, graduation has been delayed by one year, and for others two years.
''Their time at Myerscough is something they will never forget, but I hope that the resilience they have shown to successfully complete your studies is something that they are proud of and will help to give them courage when you have other tough times in the years ahead. They have shown that with a positive mindset they can achieve anything.
''Despite the pandemic, I hope students have enjoyed life at Myerscough and taken full advantage of the many opportunities available both inside and outside the classroom during their years with us. It is these wider experiences which will have developed our students as individuals, enhanced job opportunities and established friendships that will last a lifetime.
''On behalf of the Governors and staff, congratulations to every student on their success, good luck during the next stage of your life journey, and please keep in touch and let us know of your continuing successes throughout your life.''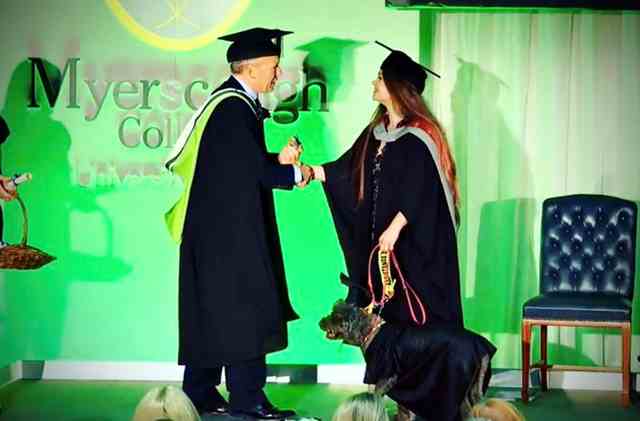 Allan Foster, Chair of the Myerscough Corporation, added: ''I'm proud and humbled to be involved in your graduation celebrations.
''This is your day, the summation of your hard work and achievement. Myerscough rightly prides itself on its connections to employers in the land-based and sports sectors. From today onwards you will be alumni of Myerscough and we hope that you will carry very happy memories at your time here as you progress in your successful professional careers."
Myerscough is also delighted to announce the awarding of its latest Honorary Fellowships, again the first to be awarded since 2019.
Mark Hogg, Ben Hobday and Paul Burgess have all accepted the highest honour that the College can bestow.
They have now been inducted into Myerscough's elite group of inspirational people and join a very exclusive club that contains names from the world of business, sport and entertainment.
Paul Burgess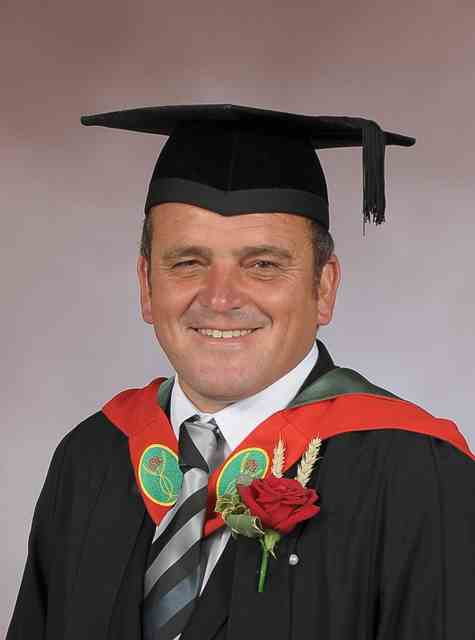 Former Myerscough sportsturf apprentice Paul Burgess is one of the biggest and most respected names in the industry.
Paul joined Blackpool Football Club as an apprentice groundsman after leaving school. He immediately started his three-year course at Myerscough in 1994,during which time he successfully applied for the assistant groundsman post at Arsenal. He then continued his studies on a pioneering distance learning programme provided by tutors at Myerscough.
Considered by many in the profession to be the best at what he does, Paul swiftly progressed to Arsenal's head groundsman in 2000 and he acted as an advisor to UEFA for the 2004 and 2008 European Championships before he was headhunted by Real Madrid in 2009 and asked to revolutionise their pitch at the Bernabeu Stadium.
After a number of years living the life as a 'Galáctico', Paul left his role as Director of Grounds and Environment for the Spanish football giants at the end of 2020, and is now based in Monaco. His dedication and commitment have led to him winning five Premier League Groundsman of the Year and Institute of Groundsman/Turf Professional Awards. Paul is a true pioneer in his sector.
Paul Burgess is awarded a Myerscough Honorary Fellowship in recognition of his outstanding achievement in the field of grounds maintenance, and the wider role of promoting education and innovation in the national and international sportsturf industry.
Paul says: "I'm very lucky to have had the opportunity to study at such a fantastic college. It's no coincidence that so many top venues around the world feature groundsmen who have trained at Myerscough College.
''The facilities, the quality of the teaching and the support they give is second to none."
Mark Hogg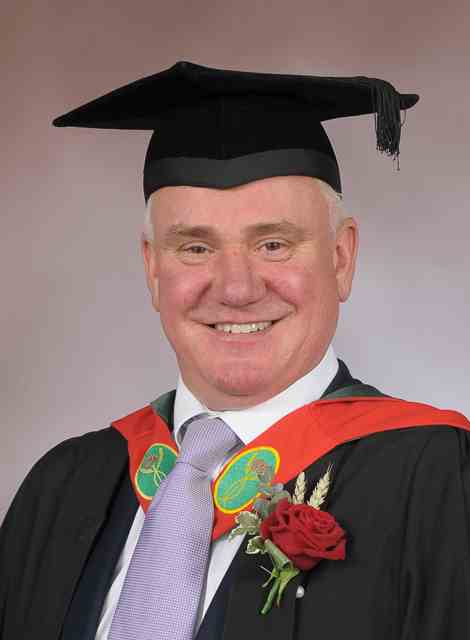 Mark is the CEO of Mere Plantations. Mark has a wealth of experience in numerous sectors including plantation development and management, media, television production, business services and marketing. To date Mark has developed and managed several thousand acres of hardwood plantations in Africa.
Mark Hogg is awarded a Myerscough Honorary Fellowship for his outstanding achievements in the field of forestry and sustainable development.
Mark said: ''I cannot imagine there has never been a more exciting time to be part of a team in the forest, planting the trees and actually delivering the development.
''As you set out to develop your place within your chosen careers, you have throughout your studies gained the baseline and footing to ensure you are prepared for the challenges that lie ahead.
''You are entering the workplace at an incredibly exciting time.''
Ben Hobday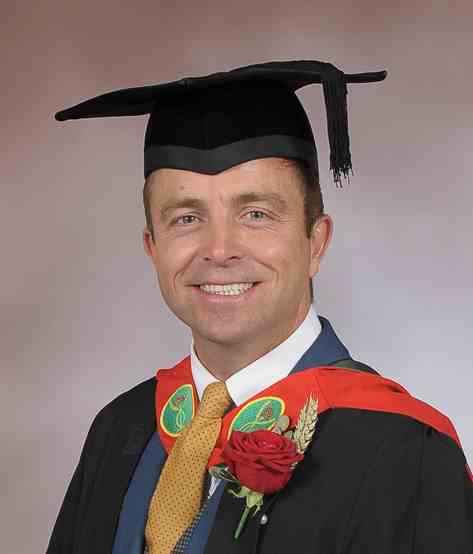 Ben is an international event rider and European champion. Ben grew up in Rossendale, Lancashire and began riding at just four-years-old, going on to win the Under21 National Championships.
In 2008, he won team gold and individual bronze medals at the European Championships in Germany. Ben was diagnosed with cancer in June 2015, completing his chemotherapy treatment in September of the same year and returning to the saddle shortly afterwards. Ben's double clear at Badminton Horse Trials after recovering from cancer was voted the Charles Owen Most Memorable Moment of the Year Award at the inaugural Horse & Hounds Awards in 2016.
Ben became the British National Eventing Champion at Gatcombe Park in August 2019, and he now runs his own business Shadow Sport Horse Ltd, producing and selling horses and has an exciting string of horses for the season ahead.
Ben Hobday is awarded a Myerscough Honorary Fellowship in recognition in recognition of outstanding achievements in national and international eventing.
Ben, Mark and Paul join a fellowship list including the likes of ex-Manchester United manager, David Moyes; football legends Jimmy Armfield CBE & Sir Tom Finney; cricketer Andrew Flintoff; and supermarket entrepreneur, Edwin Booth.