Gold for Myerscough's Future Zoo collaboration
Published

Tuesday 15 Sep 2020
An exciting project organised by Myerscough College, Lancashire Future U and Blackpool Zoo, to encourage more people to consider study programmes within the animal industry has been recognised with a national award.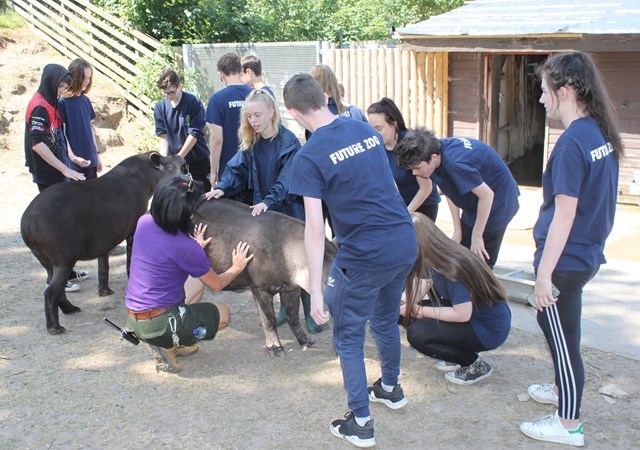 Future Zoo has been given a Gold Education award by BIAZA (British and Irish Association of Zoo and Aquariums), as part of their annual awards. The Future Zoo project aims to inspire young people with an interest in animals to consider a higher education course or pathway. Running for more than two years now, Myerscough College joined forces with the Blackpool Zoo Education Department to facilitate groups of 14-17 year-olds to take part. Since then, the scheme has gone from strength to strength.
Teenagers taking part in the programme shadow the zookeepers, help to clean out animal enclosures and assist with feeding time, while learning all about endangered species and the importance of raising awareness of conservation. Groups can also take part in overnight stays, enabling the students to experience time away from home and encouraging independence and teamwork.
Myerscough has worked in partnership with Lancashire Future U, a collaborative project bringing together universities, colleges, schools and businesses from across Lancashire. Future U is all about empowering young people with the knowledge and opportunities to succeed, with the aim of overcoming barriers to progression by offering an engaging programme of events and outreach activities.
Future U is part of the National Collaborative Outreach Programme (NCOP), which supports young people to progress into Higher Education (HE) in areas where it has been identified HE participation of young people is much lower than expected.
Rebecca Reynolds, head of education, conservation and research at Blackpool Zoo said: "The combination of workshops, theory, practical and animal experiences is designed to inspire, enthuse and connect students with real wildlife and conservation stories and make it real for them.
"They could potentially work in this industry, be motivated to change what's happening in the world right now and become conservationists themselves."
Jessica Richmond, outreach officer at Future U, said: "This experience offers pupils an incredible opportunity to learn and experience what a career at a zoo might entail, from zookeeping to conservation. The experiences the zoo offer are unforgettable and a first for many of the pupils.
"We are pleased to be able to offer this experience to the pupils in partnership with Blackpool Zoo Educational Team and look forward to future collaborations with them."
CLICK HERE for more details of the range of Animal Studies programmes available at Myerscough College
by Dave Salmon
DSalmon@myerscough.ac.uk