Excitement builds ahead of Legend Fires North West Stages
Published

Friday 11 Feb 2022
Myerscough staff and students are looking forward to taking part in the Legend Fires North West Stages next month.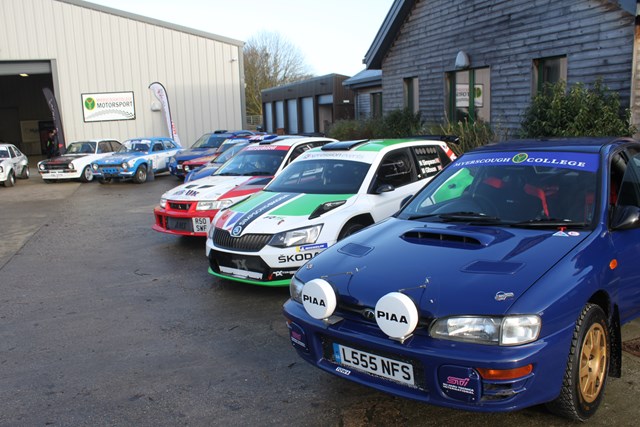 The biggest rally in the North of England returns for 2022, and will again be based at Myerscough College's Bilsborrow campus.
Both the 2020 and 2021 events had to be cancelled due to the Coronavirus pandemic, but the 2022 rally will be held on 19th March. Once again Myerscough College will be providing the event's official Rally Headquarters and the central service area for competitors.
There will also be a ceremonial town centre start in Garstang on Friday 18th.
Myerscough's team of Danny Cowell & Liam Whiteley Motorsport will debut Danny's student-built Talbot Samba, while Bart Lang & Phil Boyle will contest the event in the Myerscough College Motorsport Fiesta R2, and local driver Anthony Harrison will hire the College's Nissan Micra.
Students from Level 3 BTEC, FdSc and BSc Motorsport, and a contingent of Agricultural Machinery Engineering study programmes will run the three cars on this closed road asphalt event.
As if that wasn't enough, they have the additional responsibility of running two more cars on the event, the Mitsubishi of Howard Price and historic Hillman Avenger of John Livermore.
In a statement, the organisers said: ''Myerscough College is once again providing its extensive facilities for the 2022 event. The choice of the College for the rally headquarters is a no-brainer as geographically it's adjacent to the Garstang town centre ceremonial start and finish, and it is close to the Saturday action making it the ideal location for central servicing.
''The College boasts a rally heritage having a long-established motorsport department with stage rallying a core element of their activities and a number of lecturers having strong links to the sport. It has long established links with a number of Lancashire based Motor Clubs who have been instrumental in the organising of the event for many years.
''By bringing the rally to Myerscough and engaging with staff and students, that in itself provides valuable educational benefits providing first-hand experience of the running of a major motorsport event. All in all, it's a win, win scenario for both the College and the rally organisers.''
The Legend Fires North West Stages rally is the largest multi-venue tarmac rally in the North of England. Myerscough College has played a significant role in the event for a number of years, including students supporting cars competing.
Occasions like this give Myerscough students crucial real-life experience on event where they'll be working alongside potential employers. The students will get to experience, first hand, a major event and such experience looks great on their CV when they apply for jobs within the industry.
For more information on the range of motorsport study programmes available at Myerscough College and University Centre, CLICK HERE