Celebrating success at Myerscough College
Published

Wednesday 2 Dec 2020
It's been another fantastic year of success at Myerscough College, from individual student achievements to wide-ranging campus developments and national awards.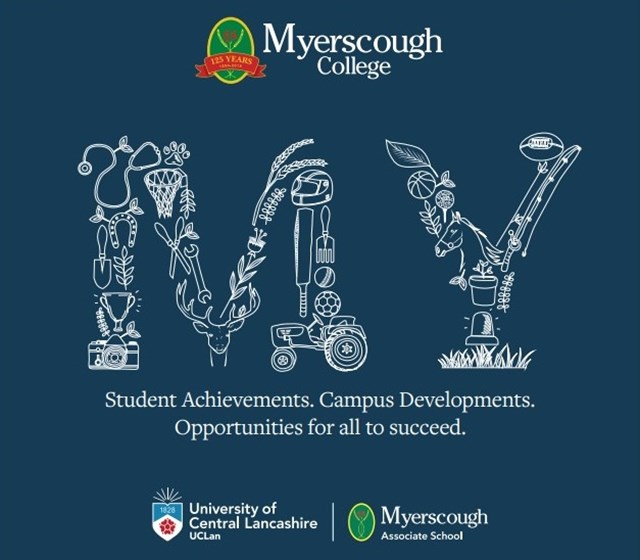 Our annual end of year celebratory 'My Success' brochure identifies a number of both collective and individual staff and student success stories and achievements.
Chief Executive and Principal of Myerscough College and University Centre, Alison Robinson, says: ''These last few months have been very tough for us all. To quote something I saw on social media during the pandemic: 'We are all in the same storm but not in the same boat'.
''I continue to be incredibly proud of the work our Myerscough team, both staff and students do every day. Their teamwork, care, resilience and dedication is outstanding, as they adapt to a different way of College life. Thank you to every one of you for supporting each other, and our wider Myerscough community.
''The Coronavirus pandemic has inevitably meant that we have lost so many activities that would normally be at the very heart of our student's experience and success while at Myerscough. Cup finals, international sporting recognition, overseas trips and much more besides over recent months simply hasn't been able to take place. Our annual graduation celebrations and appointing of new Honorary Fellowships also couldn't go ahead, which was bitterly disappointing.
''Despite everything, it's been another fantastic year of success.
''We are delighted that we have continued to be one of the country's top performing colleges with very strong further education, higher education and apprenticeship achievement rates and student satisfaction rates. Our students and staff are at the heart of our College and University Centre and being at Myerscough is more than just a job or a qualification. We believe in providing opportunities for all to succeed in a supportive, enriching, ambitious and nurturing environment so that everyone can be the best that they can be.
''The many industries that we serve continue to report significant skills shortages and opportunities to forge a variety of interesting and exciting careers. Myerscough offers not just high quality academic, vocational and professional education but the opportunity to change lives through a holistic experience of course enrichment, study trips and visits, high quality work experience, community work and charity fundraising. This broad ranging experience builds confidence, resilience, communication skills and life skills, which enables our students to progress into their chosen careers – demonstrated by our 97% positive destinations by our further education students and 98% of our degree students progressing into education, training or employment within six months of graduation.
''We pride ourselves on being a fully inclusive College and have once again demonstrated this through our successful reaccreditation as Leaders in Diversity by the National Centre for Diversity. The Leaders in Diversity kitemark demonstrates our commitment to and embedding of the principles of FREDIE – fairness, respect, equality, diversity, inclusion and engagement.
''This end of year celebratory brochure identifies a number of both collective and individual staff and student success stories and we hope that you enjoy reading it.''
by Dave Salmon
DSalmon@myerscough.ac.uk