Cameron paves his way to success in Lancashire Apprenticeship Awards
Published

Friday 1 Apr 2022
A Myerscough College learner has been named a winner at the inaugural Lancashire Apprenticeship Awards.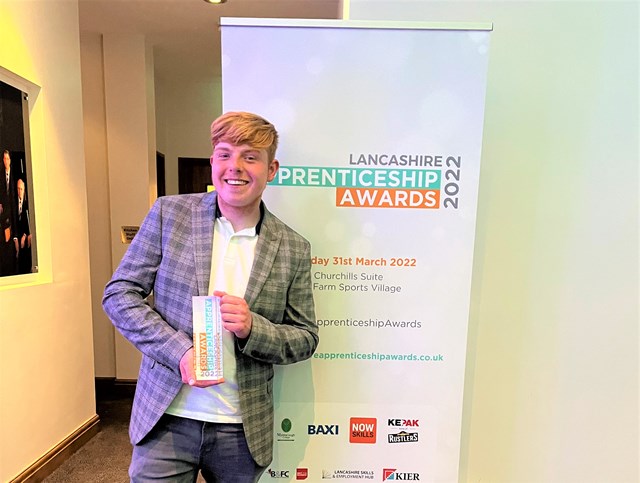 Cameron Barker won the award in the category Intermediate Apprentice of the Year. Cameron has been completing his Level 3 apprenticeship in landscaping while working for employer, Steven Foxcroft Landscapes.
The awards, which took place at Mill Farm this week, celebrate and recognise the hardworking individuals and organisations involved in apprenticeships that continue to shape our future. Winning an award resembles a massive achievement for not only the individual apprentice but also the larger organisation that they work for, whose continued support has facilitated the success in recognition.
Speaking about his apprenticeship previously, Cameron said: ''I first joined Foxcroft landscapes back in June 2018. I left school on the Friday and started with them on the Tuesday. I only was meant to be there for the summer. On the maintenance. Then in the September I was going to start college doing arboriculture. When it was coming towards the end of the summer my employer suggested that I stay and become and landscaper.
''So, I thought that sounds good, so he got the apprenticeship sorted out then I started. Until then I was doing the maintenance and the landscaping side getting to see both sides of the business.
''Right though my apprenticeship my employers were there all the way, giving me opportunities to learn and also supporting me. I have learnt so many new things on this programme that I couldn't do before.
''I can now pave, build decking, fencing, cladding, fit gates, use lots of machinery and a whole what more.
''Woodwork would be the task I have enjoyed the most, and in particular decking and fence installation. I would also like to give a special mention to Richard my tutor for all the help he has given me and help me though the toughest of times.''
Last year, Cameron was named the best in the UK after winning gold at the Association of Professional Landscapers (APL) WorldSkills UK final.
He was crowned champion in landscaping at a prestigious award ceremony, competing alongside other finalists from across the country to be crowned the UK's best young landscaper.
Cameron had to build a fully landscaped garden to a set specification, incorporating water and lighting features, paving, decking, turf and numerous other elements, including designing a plan for the project, which he then had 16.5 hours to complete over three days of the final.