Myerscough's First Lady celebrates a decade as Principal
Published

Tuesday 1 Mar 2016
This month marks the tenth anniversary of Myerscough College's Principal and Chief Executive, Ann Turner, in the role.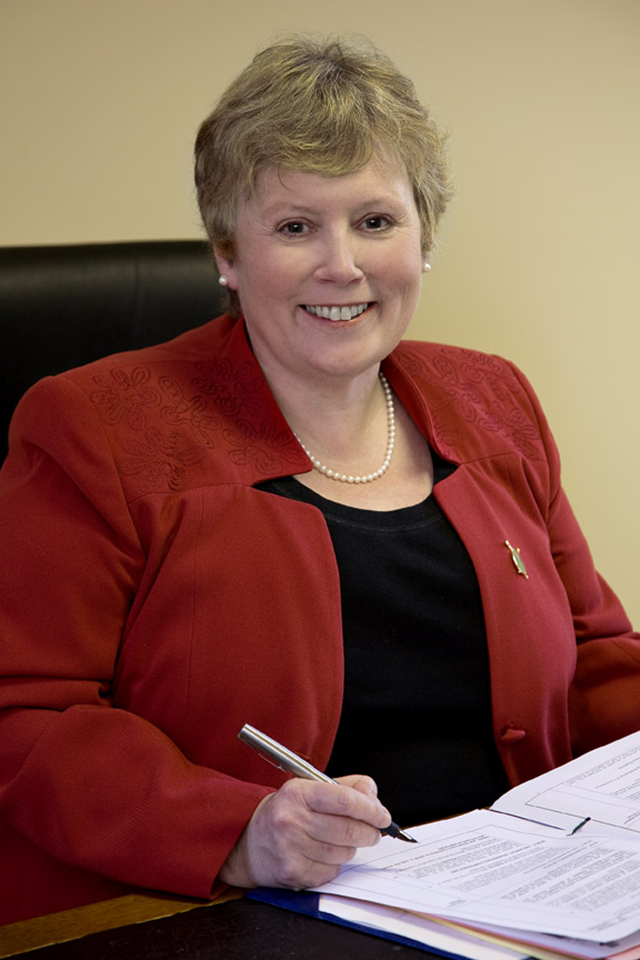 Ann became the first woman to take the College's top job on March 1st, 2006, and over the last decade has overseen a period of enormous growth and campus development.
Before Ann became the College's first female Principal in its 110 year history, she was a long term member of Myerscough's senior management team. Having previously held the position of Director of Finance for seven years, Ann played a key role in ensuring the College achieved significant growth and enhanced its position regionally, nationally and internationally.
She places great emphasis on standards and the quality of teaching and learning within the College as a whole. Ann's aim is for Myerscough to continue to offer a first class learning and development environment that students at the College have become accustomed to. 
Reflecting on her decade at the top, Ann says: ''It's flown by, but Myerscough College has been a part of my life for a lot longer. 
''I was originally appointed as Director of Finance in 1998, so I've been here for 18 years in total. That's the longest I've been at any organisation. It's because I enjoy my job so much. You spend so much time at work not to, and it's especially important in our sector.''
Ann explains why she was attracted to Myerscough College in the first place: ''I wasn't even in the education sector in 1998. The company I was working for was relocating to the Midlands and I made the decision not to go. I was then offered other jobs but they didn't feel right. In the past I had been a lecturer at Newcastle University and when I saw the post, I thought it looked interesting. I came to a meet the team session before the formal interviews took place and it felt like home straight away. I knew I could work there and it was a very positive first experience.
After more than seven years in the role, in 2005 the rare opportunity of the College's top job came about. Ann says: ''I looked after IT & community ventures as well as finance and the role grew over the years. Professor John Moverley (the previous Principal) was having an increasing outward facing role and was away a lot, so the executive team, including myself, looked after college operations. In 2005 Professor Moverley resigned to take up a position as Chief Exec of the Royal Agricultural Society of England and the post was advertised.
''Being Principal wasn't something particularly on my aspirations list, but my role (at college) had always been much wider than finance and colleagues encouraged me to go for it. I also felt I couldn't criticise if I hadn't at least thrown my hat into the ring. I knew I'd enjoy the challenges the role posed. I was made interim principal in November 2005, was offered the position in January 2006 and officially took up post on March 1st, 2006.
Upon taking the job, Ann became just the second female Principal of colleges within the land-based sector in the country, and with it came challenges: ''I have always worked in male dominated industries. When I worked at Newcastle University I was the first member of the academic team to go on maternity leave and they had to write a policy just for me. That shows what the academic world was like back then. Even today, things like farmer's clubs, something very relevant to Myerscough, are men only!
''It was an interesting time. The college itself had been very focused on growth but the sector was more concerned about value for money and student experience. We were more relatively cash rich and we maximised that in the years before I took over. Post 2006 our focus was back on the student to make sure they were at the heart of our decision making.
Ann continues: ''We involved the local authority from the start to develop a campus plan to make planning permission easier and therefore our developments and vision run smoothly.  We had to overcome funding and other challenges as the years went by but we had, and still have, a clear vision of what we wanted the campus to become. Our current plan concludes next year and we'll start on a plan for 2017-22 in the autumn. We need to keep improving what's here and make sure our resources are industry relevant and aspirational to students to ensure they are employment ready and encourage them to come here in the first place.
''It never ends. Some (of our developments) are to support growth, some are upgrades to improve facilities and we will continue to invest. If we don't our competitors will.''
So what's changed in the last ten years? Ann says: ''As a college we've significantly improved our academic standing. We have really embedded higher education & research in what we do.  We are entering even more challenging times for the sector as we look at less funding but equipping students for high levels of success can never be wrong.
''We have to maintain the standard or we'll be failing the students. They give us a number of years of their lives and they need to get full value for that.''
Despite a highly successful decade in charge, Ann modestly plays down the College's achievements and developments: ''The biggest buzz for me is the team of people you work with when you see the achievements of students and the difference it had made to their lives. They're the highlights. That and working with a committed and dedicated team. Maybe when I retire I'll reflect further but we've had some very special moments.''
And as for the future, Ann says she has no plans to stop just yet: ''Being principal is a privilege, but if I felt I was no longer able to give my best it would be time to go. We're lucky that the college is financially secure and has a strong reputation and is most of all delivering for the student. That's not down to me, it's down to our entire team.
''There are massive opportunities within our sectors for skilled workers. The future is bright. We just need to keep doing what we're doing.''
Ann is now one of just 35 people with 10 years or more continuous service as Principal at one college, out of almost 400 colleges nationwide.
Although Ann was brought up on an arable farm in East Anglia she has a range of experience from outside the sector working at various levels in a fully commercial environment. She is also a Fellow of the Chartered Institute of Management Accountants. Ann's interests revolve around her family with her two sons and grandson. She has also served as a Magistrate on the Lancaster bench.
by Dave Salmon
DSalmon@myerscough.ac.uk